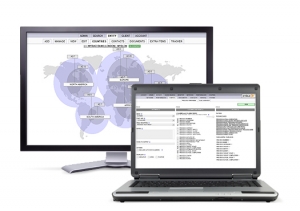 What is MYRIAD?
MYRIAD was designed originally to address the specific issues that Network Management was experiencing, evolving to tackle and contain the concerns that affect operations at large today. To describe a few of these:
Huge amounts of disordered data on providers and market infrastructures.
Fragmented and manual processes.
Management of nostro accounts, all related documents, processes fees effectively and proactively.
Increasing responsibilities and broader engagement with operations, risk, compliance, legal, finance and beyond.
Siloed operations within the organization.
MYRIAD faces these challenges head on. Automated processes standardise procedures and bring disparate functions and systems into one platform. Fees management, performance monitoring, due diligence and reporting capabilities deliver data intelligence, economies of effort, scale and cost, collaboratively, across Operations. The transparency that is naturally brought to bear on the network supports regulatory compliance and manages risk.
Key Benefits of MYRIAD's Functionality

Actionable Intelligence – available firm-wide through seamless sharing of data and reports across all departments

Visibility and Maintainability is improved by merging multiple sources of information and documentation

Automation of repetitive functions reduces risk and improves efficiency

Knowledge Management – a consolidated information repository available across your organisation

Regulatory Compliance is enhanced by deploying workflow for critical processes
Network
• Repository of static data, documentation and contacts
• Support for all account types
• Complete management overview
• Global access with strict user permission controls
Reports
• Full reporting capability
• Report Templates
• Ad-hoc & scheduled reports
• Store, share and export
Process & Control
• Configurable account workflow templates
• Enriched task routing
• Complete activity audit
Performance
• Comprehensive and flexible RFI engine  (for RFP, Due Diligence, etc)
• Comprehensive issue tracking and call/meeting report system, including SLA  matching and performance grading
• Service level monitoring and benchmarking information
• Supplier STP report repository
Fees
• Automated and manual invoice capture
• Multiple Foreign Exchange rate conversion
• 3-way reconciliation between invoice, fee schedule and internal transaction data
• Rapid generation and maintenance of complex fee schedules

A unique, unrivalled service
Since development of MYRIAD began in 1999, our product managers have been actively working with the banking sector to ensure that we remain at the forefront of the RegTech space. 
With each implementation, our Clients have been very impressed by the ease with which MYRIAD has been adopted by their organisation.